When I went to

Trenčín

Beckov

...
(with electric VW e-Up 1st generation with 18.7kWh battery ...)
(Published on 8.3.2020) (Google translation from original text in Slovak language http://danielgago.sk/e-Up_trip.html )
Why this document was created is clear from previous documents. http://danielgago.sk/#electromobility  When I planned my trip (as I write here: http://danielgago.sk/Trip_Planner_elektroauto.html) it was necessary to make it and everything in practice to verify ... Up in the title I finally went the opposite section (although the original plans were that it would be so), but the beautiful title of one well-known slovak nature song fits me in the title ...
I borrowed again to test the first generation VW e-Up with a battery of 18.7kWh and thus quite limited range, but I tried a proper trip ... Basically it could be called the castles, chateaux, or ruins of Slovakia, but I am He stood mainly because of the chargers near them ... There was no time left for the castles, and I don't even need them, they are a symbol of "power" and luxury of that time ... And this was an event focused on driving itself and the facts about charging (e-auto).
The text is not meant for sightseeing lovers, even though the beginning looks so, but it is meant for lovers of the facts about electromobility ... I'm not definitely the first thing to do on this e-Up any longer route, even better recorders than me in terms of route length, but this is one of the few documents from such a trip ... I took only "Aďka" for the trip (all who could and did not go - so they could be part of the pioneering era of "long-distance electromobility") ... ("After 200m turn left"), but at least weighed nothing, and every kg counts ...
Weather (it also affects how much such a small electric car goes through ...):
They only reported up to 8°C, clouds and maybe a little drip (not even showers), and so it was, because I write the temperature occasionally. At temperatures above 10°C and the sun would be a little different, I would have less consumption ...
The test trip was realized 7.3.2020.
START:
I left home at 8:00. The fog is gone, even sunny (but should be cloudy), but the temperature is only 5°C. So we're really heating ...
Range from the house was 84 km, it is theoretically to Trenčín, but the truth as I was heating in Piešťany only 56 km (if I charged at home from the 230V to full and I give straight Trenčín along the side roads). Even so, I wanted to check the charger if it will be free this time (because of the already mentioned frequent occupancy of Piešťany electric taxi) and so I charge in Piešťany to full and then go straight to Beckov (castle) and Trenčín (charger). Theoretically, I could pull it to Nové Mesto, there is a Slovnaft gas station with free charging for now.
(1. Charging)
Battery had 52% in Piešťany, charged to 95% in 15 minutes, 100km range and departure ...
The range is so good that I could go see "Horná  Dolná – Nová Lehota" wilage on the way, but there is no need. I stopped at MTBiker (https://www.mtbiker.sk/ ) because my journey to electric drive started here - I tested electric bikes with them ... (Document is here:  www.danielgago.sk/Elektro_cyklo_test_2018_04.htm  ). So this is kind of related. One nice photo and going on, today I do not need anything with them.
<![if !vml]>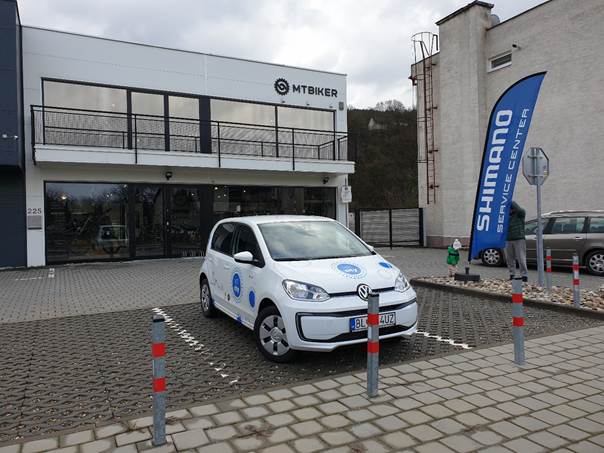 <![endif]>
The sun hid, temperature 6.5 degrees, so the heating will not shut down today ... I went to the woods in the near Hrádok to take pictures. It warms me the feeling that "my" car here in this really beautiful nature not smoke ...
<![if !vml]>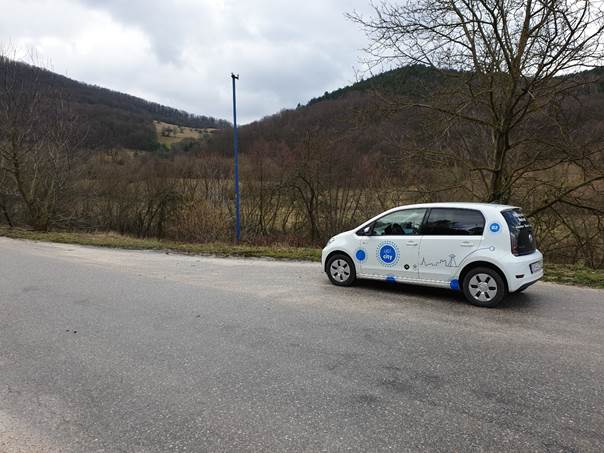 <![endif]>
<![if !vml]>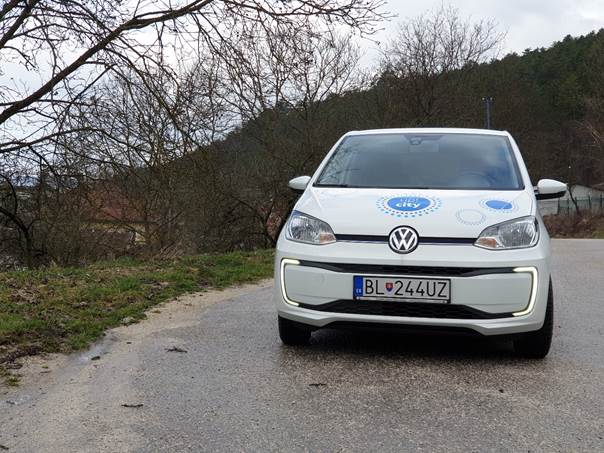 <![endif]>
<![if !vml]>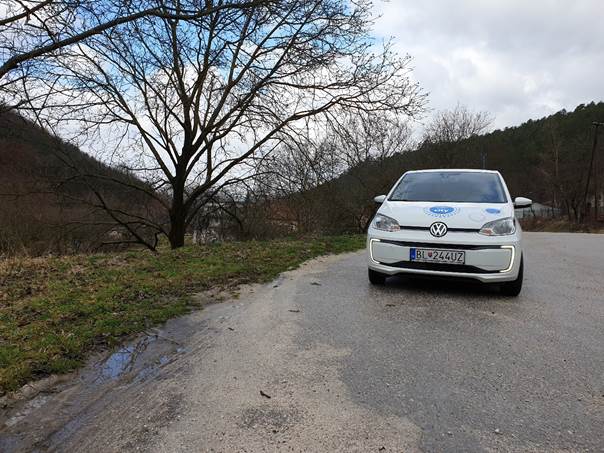 <![endif]>
I'm going to Beckov (castle ruins). Here is just one photo and it goes on.
<![if !vml]>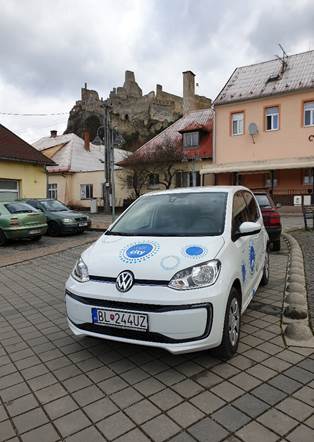 <![endif]>
I reach 77km, and the charging station in Trenčín is 13km away, so far cool, but it was to be expected here on the plains and low speeds on the districts. Every moment the village, the main entertainment will come to Trenčín, where I will reload 100% ... So McDonald's Belá and there will see how to go.
I tried to jump to Trenčín to the castle, take a nice photo with the car, but the city is chaos, I do not know where I would park there to make a decent photo with the car and the castle, so I returned to the charger in Bela. I came with a range of 60km and 51% battery. But now he goes up a stiff, uphill, faster road, so I charge 100%.
The temperature has already risen to 8.5 degrees, but now I'm going to the mountains, to the heights, where it falls. The sun is sometimes, from the west clouds and probably rain ... So I keep still, at 23, sometimes 22 degrees is enough, and on my feet, that's fine. I can not less, a person when just sitting in the car longer without moving so he feels cold ...
Finally I checked how the charger shows up on the map when I cast it ... CCS - busy, CHAdeMO - busy (CHAdeMO cable is free, but probably wouldn't share so it shows as busy, that's good ...), AC - free but that would go slowly true ...
<![if !vml]>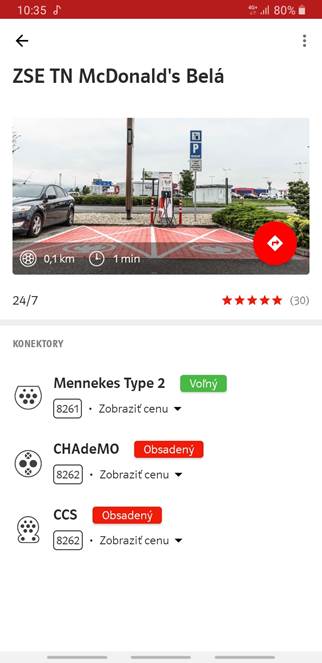 <![endif]>
(2. Charging)
Charged to 98% in 18 minutes, range over 120km ... It makes no sense to wait longer than 96%, it increases slowly and 4km range will not save me.
Every time I charge, of course, I heat up nicely, even up to 24 to heat it up from the charger and then lower it to save ...
The nearest charger in Prievidza - 62km ... Now the road begins ...
In the hills the range jumps the truth up and down. But basically I stick to the range what the car showed, only slightly less (the 20 km reserve, as I often mentioned it works ...).
But in the hills it is beautiful ... Only if there was a place to stand and take pictures.
<![if !vml]>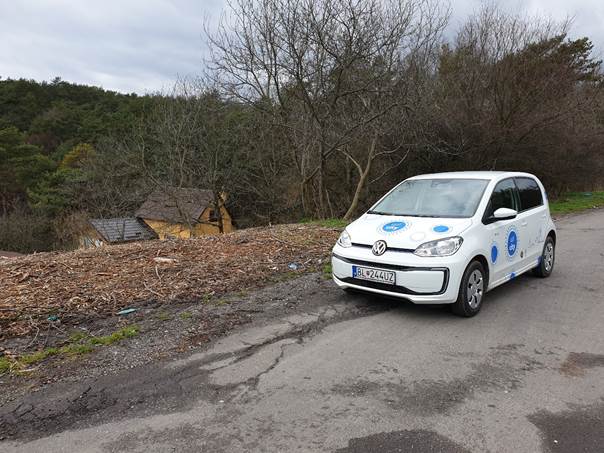 <![endif]>
I came with a 50km range. For those hills and the fast road I expected it worse. Piece I went along the expressway (villages tired), but everywhere was limited to 100, so cool. Otherwise now overall I'm going faster where it goes so 90 I hold. Therefore, the consumption is growing a bit, not a bit of a rapid, but I do not like the villages from Piešťany to Trenčín. There I kept speeds up to 80.
It starts to shower, it does not matter, just heating will not relax today, it is clear, 7.5 degree now.
I wanted a photo with Bojnice castle, but I do not know where to stand so well, so I charge and move on ...
(3. Charging)
Range was about 45 km (5 km I drove as I was looking for a place to photo yet) when I started charging and 34% batteries. In 25 minutes is 98% and 125km range.
Those breaks are so short that I can't take notes and make plans to navigate to the next point ... And the toilet sometimes at least.
It is 64km to Zvolen, but there are hills on the road, so we'll see ... I risk it straight to Kováčová for lunch (it seems that I am starting to believe the car) ... 65km on expressways. I charge the car full and save speed.
So it was okay, first it took a lot of energy to the hills, but then it came back and especially the road went down then. So in Kováčová range 52km and something under half of the battery ... I go for "halušky", coffee and relax ...
<![if !vml]>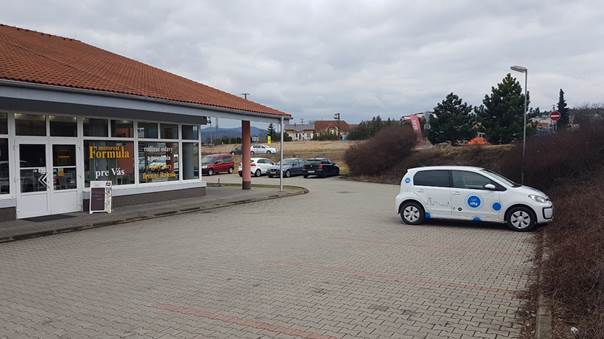 <![endif]>
Well, I would put it in Banska Bystrica now, and there is a charger ZSE, after that I would come (about 21 km still).
Halušky equipped, I still manage the obligatory photo in the background with Zvolen Castle (and pay fair parking to have proof that I was here ...) and go to Budča to charge.
<![if !vml]>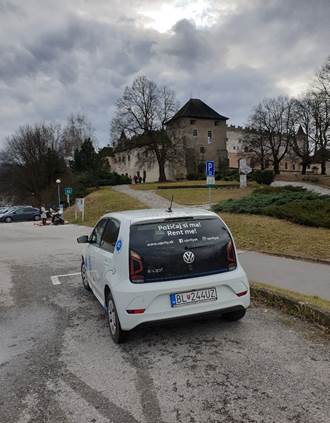 <![endif]>
<![if !vml]>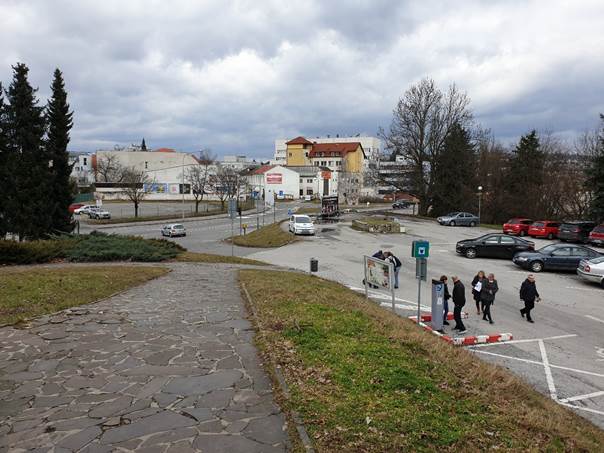 <![endif]>
<![if !vml]>
<![endif]>
Why Budča? I could also charge directly in Zvolen, at McDonald's, from Kováčová I had it on my way, but ...
Zvolen Castle was such a major tourist destination today (even though I just stopped), Budča will be an imaginary destination for an electric car - was there if memory does not mislead one of the first fast chargers and overall there are many stations on one kick, such an iconic place for electric cars ... So I wanted to see it with my own eyes ...
So after those 65 km to Kováčová I put about 5.5 to Zvolen to the castle and 5.5 to the charger ... And the range is still 38 km, more than 1/4 of the battery is still (but 22 km to Žiar on the highway I would rather there were hills ...).
(V Budča there be such a similar charging position on the other side of the highway! I used it from the direction of Zvolen)
<![if !vml]>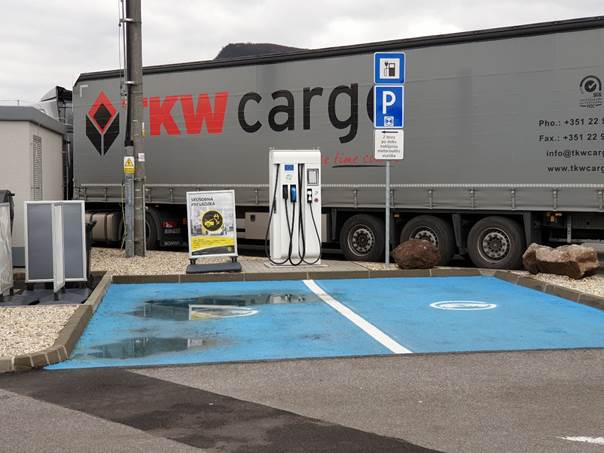 <![endif]>
<![if !vml]>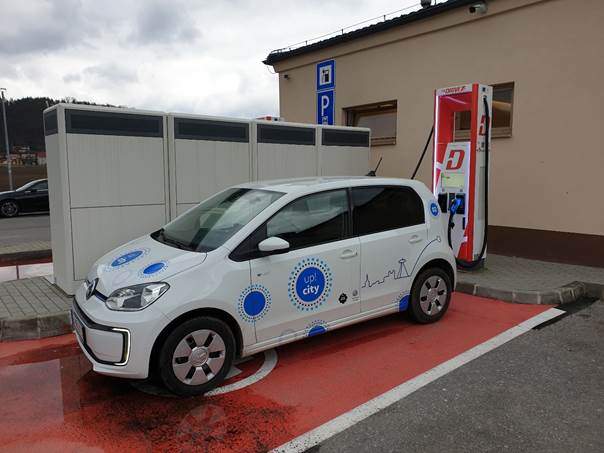 <![endif]>
<![if !vml]>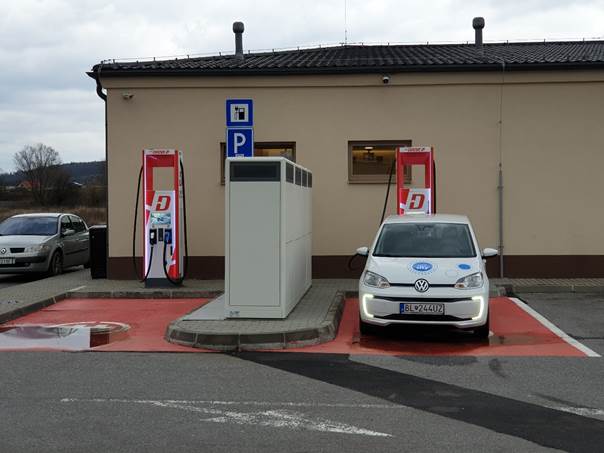 <![endif]>
And here in Budča is a little different charger than I used to ... Even two, so if there is one car nothing happens ... (On the contrary, we can mess up until we charge.) What sounds it made at startup ... Would not, it is 350kW machine, not 50 ... Perhaps my battery will not tear to pieces ... :-). I'm kidding, she gives as soon as the car can withstand. I can push it all the way here and go see what the other route options are. But I'm actually going home ...
Unlike the next charger project NextE, to start it I have to contact the station operator ... (I go to ZSE for free so I need not this station ...). For sure and out of curiosity I contacted - the staff did not even know if it was going, that was enough ... So I did not ask about the method of payment at all ...
(4. Charging)
In 15 minutes it is 90% battery and I have to go to charge in Žiar and Hronom. From here it is far to Beladice (but today I would risk it, it's only 80km, but I would still go around the Žiar) . Near e-Tron came. Apparently in 48 minutes it will have a fully charged - and it has only 8% of the battery now (and he has a big…). That's a different level, well, he's charging 150kW, I guess, not like I am up to 30. But on a 50kW charger he would charge hours ...
So in the end I had bad luck in Žiar today. The city police are charging ... (they charge in an hour, maybe they won't be here) DC true nothing, even though CCS is free, but AC goes, apparently in an hour and 25 minutes will be charged ... (I have something over 3 / 4 batteries ... But I really need the full, I have the longest stretch ...). But I don't even have the truth about heating on AC ... And again we are like those Taxi in Piešťany - such organizations should have their own stations, not public ... Otherwise, the ZSE application now reports all the ports occupied ... At least I have a lot of planning time roads and rest (just to keep me cold, as I do not smoke at AC as I wrote ...). I walked at least.
The road to Beladice is said to be 69 km long. On highway 66, but the speed increases consumption ... That's probably the longest stretch, the pity of the delay here ... But what I wanted to test it I have ... Especially that the stations were looking for me well today. There I had no problems, Waze navigates great ... Huge help is that for you controls the maximum speed, because the village board one overlooks here ... I found the charger sewn in the first time I found ...
So after about 20 minutes they let me go or went away, so I recharge it in a few minutes (at least up to 98%) and move on. In Beladice it probably won't happen, there are 4 stations ...
I looked at the elevation profile in Beladice (thanks to mapy.cz) and it is more or less downhill ...
<![if !vml]>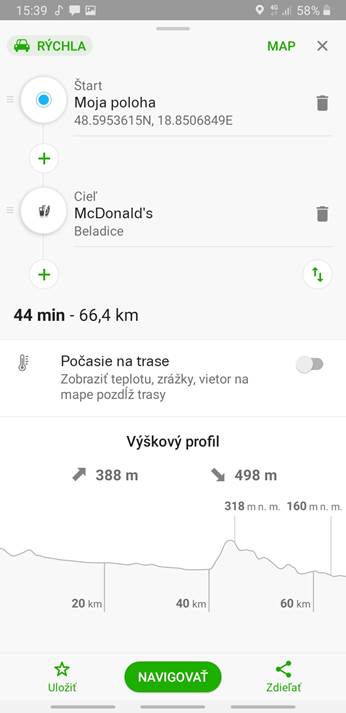 <![endif]>
Since I have a time loss, I risk it and follow the expressway. I also relax, it is less strenuous on a wide straight road than in the villages ..
(5. Charging)
Fast charging was in 12 minutes to 98%, 110 km range and I go.
The temperature keeps around 8 degrees still (without the sun), I must say that even the heating I finally tuned, if I put it on my feet so nicely underneath, up I am still dressed (I live in my toad in winter) so climate comfort today is good. But I have to have often set up to 23St ... Overall, but I have to say that the car is simply less heated (but faster, but it goes on short journeys, and it is intended ...).
So I arrived with a range of 38km and 35% battery to Beladice. And I did not save it .... Down the hill and 110 and above, only 100 (tachometer, actually less) to be consumption. Driving like this is fine. I was not a brake, I went to the slowest (if they were driving trucks, it would be great consumption). Other experiences in Beladice. I connect the car, the charger flickers (the whole display), but I started charging, but did not charge properly, I just disconnected, because I could not stop because the display did not work properly ... I put the car next (there are more boxes) - first it wanted me to choose a connector and so (I haven't seen it yet ...), then apparently a mistake, but I gave Start and OK again, let's go ... 175kW chargers here are ...
(6. Charging)
It won't take long to charge up to 96% while it's still fast. 19 minutes and 96%, range 109km. There was a Renault Zoe in front of me, and even after me, he may have a better range, but he won't be able to charge him so quickly ...
Info - more modern cars show on the charger how much they will be charged. No first-generation E-Up, but at its speed it's not necessary ... Even Renault Zoe doesn't show what's next. So you don't know how much it takes, but now I don't care, we don't block. I see at least the state of charge of his battery, a little guess it.
<![if !vml]>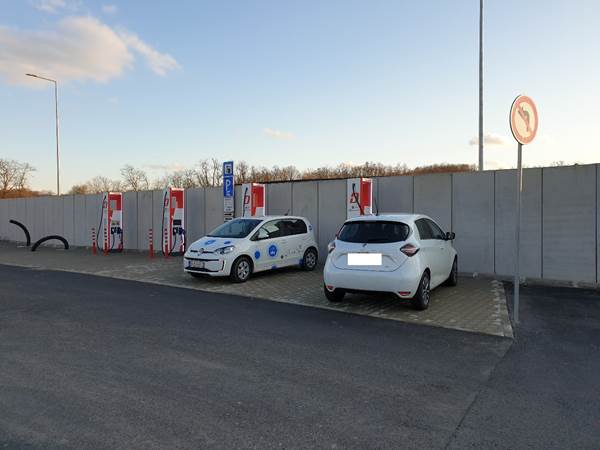 <![endif]>
(The following part of the trip is just that I extended the total trip, I would have come from Beladice over Nitra and the old way home - to 55km and at home a little charged from 230V, but if the trip, so good, basically from Galanta would the car has already arrived in Bratislava ... So if anyone goes from UpCity, even to Zvolen so it can.)
I'm going in the direction of Autoprofit Galanta - 55km, quite a highway (46km) but it is without big hills (although it sometimes goes up, then down, so it negates). After a hard ride I am there once and two, the range still 43km, battery 40% and we go last charge today ...
And while I'm here and in the dark, so nice photo, so even the C-front headlights nicely excel ...
<![if !vml]>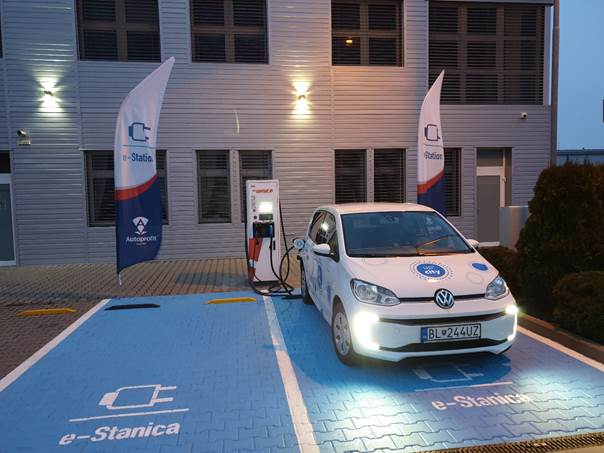 <![endif]>
At least I get a little rest in the car that when charging, the eyes have enough. Either staring on the road or on the phone for notes ... Shit, after a while I watch that I do not charge, it stuck at 49% and ended. So disconnect and start again ... In 8 minutes, there is 80%, range 90km, that's enough ... (and that was the last 7th charging)
I got 36km home, after slower roads and flat, so I loaded less. Don't be late. Those 50kW chargers have a thinner and lighter cable I just found out ... They don't need so much cooling ... That 350kW was a proper "hose", even heavy.
In the end I took part on the highway - Vlčkovce, because the navigation was so true the truth so chose such a route ... But at least it was faster.
Arrival home 18:45, range 55km, battery just over 50%, tomorrow to Trnava is enough, there I still have to charge, I go to Bratislava to return the car (But I do not want ... I got used ...).
Data from the car all the way:
Average consumption of 15.3kWh (highways have broken down, but accelerated ...), the track was a total of 411km!. I started at 8:00 am and ended at Home at 18:45 (I would have lost 18:00 by omitting the last Galanta).
7 times charging, but Galanta did not have to be at the end and if I had to recharge at home in the morning I would not need Piešťany (maybe I would stay longer in Trenčín then, about 5 minutes). So on the road 365km I would only charge 5 times ... That is about 110 minutes maximum, but it must also include the time to find chargers a little, especially the tour to Žiar was a little time. And I was lucky they weren't (except for Žiar, not for long) occupied. Because I would add an hour or more of waiting to the road ... And if Tesla were there ...
Map - only approximate, because sometimes I went on the highways, sometimes I just avoided them, and it can not properly enter in the planner on mapy.cz:
<![if !vml]>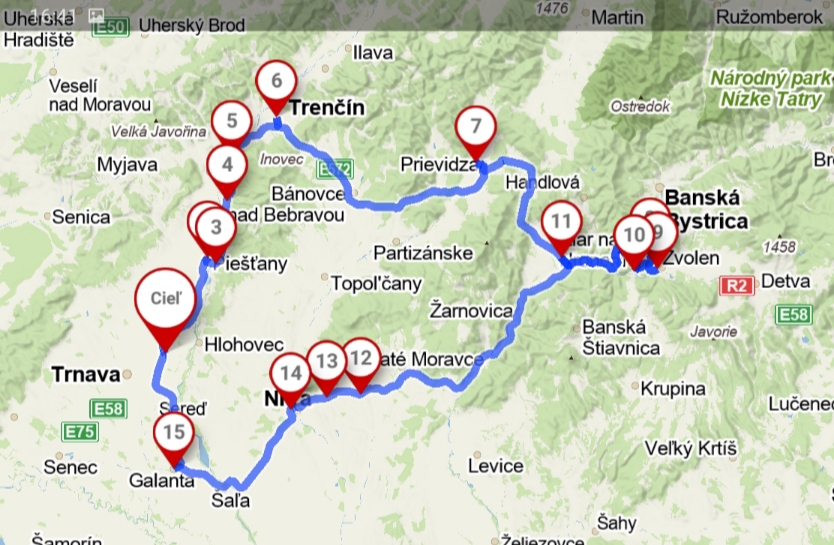 <![endif]>
By the way - I made a new personal record, so much I have not traveled with any of my car so far in a day (I do not go to the sea and if I went there once as best as a trip by bike), I think maximum Brno - about 300km there and back But then I will have my personal record on a city car that has a small range and apparently will not go anywhere, so it is interesting ... But again I do not want to say that this car is great for long-distance routes, not like, but 200km and 2 x 25 minutes to charge is such a normal ride .. Or with the newest generation what 200km gives at once it is fine with one short pause to recharge (for sure, half an hour pause after 100km is OK). I was no worse than ever on Škoda Felicia, but they were family cars for everything, because they were the cheapest and others were not ... I was really surprised that the car can be seated, of course Audi e-Tron or Tesla would be more comfortable (and they would give it only one charge for about 30 minutes in Budča), and certainly quiet enough at higher speeds, but you can walk enough on this small car. Whether it is (if I watch it so often) charging so restrictive to leave it to everyone individually, but the fact is that for example, the charger in Žiar is sewn in the city, navigation will lead you there well, but you go through half the city .. Budča or Beladice are basically on the highway, it is OK, Trenčín is on the edge anyway, Nové Mesto right next to the highway, Trnava is in the city as well (Trnava is OK for me, but not probably for foreigners). Well, if you ever have to wait an hour to free station ...
Regarding such a frequent charging - the car managed to cool quickly still, I did not expect that the batteries are overheated and it goes slowly or so much (that is true at this temperature understandable, they manage to cool when it is cold, in summer it would it could be different, it was a pity that I could not see the battery temperature ...). And so I thought - similarly often (kilometers) I refueled or breathing when I went on trips with Mustang (not with an American 5 liter, but with a Slovak 50ccm - a small motorcycle). He would have done 100km in a row, but I didn't sit there so much, so the breaks were similar. Only here is the total ride faster ...
So that's about all I wanted to write about it. I am glad that I realized it, because the theory is one thing, but practice is practice ... With the newer generation with an average 200km range it would be completely different, I would jump straight to Budča, then maybe Beladice and enough. .. But again everywhere for at least an hour pause, so I do not know whether I would eventually stand and not charge even longer .... That would not matter, Beladice have McDonalds, Budča some restaurant on the gas station had too.
Tip for a better trip than this (rather test):
You can also going to  Bojnice from Bratislava for two longer (25 minutes) charging - Trnava (maybe I would stay for a while in Piestany or Nové Mesto for sure, depending on the heating and current consumption), Trenčín – full charging  and then to Prievidza, you're already in the finish ... And back in the same way. To Trenčín on the side roads and through Beckov if you want to save battery, but also Bratislava - Trenčín on highways, then only charge Trnava, Piestany or Nové Mesto, and Trenčín if you go faster. Those charges will not exceed 25 minutes. Worse is that Trnava and Piestany need to go to the city, so enough down the highway, Nové Mesto is only about 1 km from the highway, that's nothing.
© 03/2020 Daniel Gago  https://www.facebook.com/danielgago.sk